Introduction
At Bradshaw we believe every child deserves the chance to become a reader and due to this we build it into the curriculum at every opportunity. We have class novels which run alongside our Talk for Writing lessons, provide children with supported daily guided reading lessons to develop comprehension, enable children to develop a love of reading through independent reading sessions which are supported by the teacher, have a good school library, a target and reward system to encourage children to get better, assess children's ability using a robust process and we build in other exciting events throughout the year.
We feel it's important to promote a love of reading to the children and we understand the value of reading in helping children to attain their best. Research shows that reading for pleasure has a positive impact on children's attainment as they have enhanced levels of text comprehension, an increased knowledge of grammar and show improvement in their writing. The OECD reports that developing a love of reading can be more important for a child's educational success than their family's socio-economic background. Reading also increases children's breadth of vocabulary, understanding of other cultures and provides them with greater general knowledge.
Reading is a complex process where children need to be supported in their learning so that they acquire word recognition and develop comprehension of words to fully understand what it is that they are reading. Parents and teachers can support children throughout this process to give them the best possible chance. A diagram showing this process is below: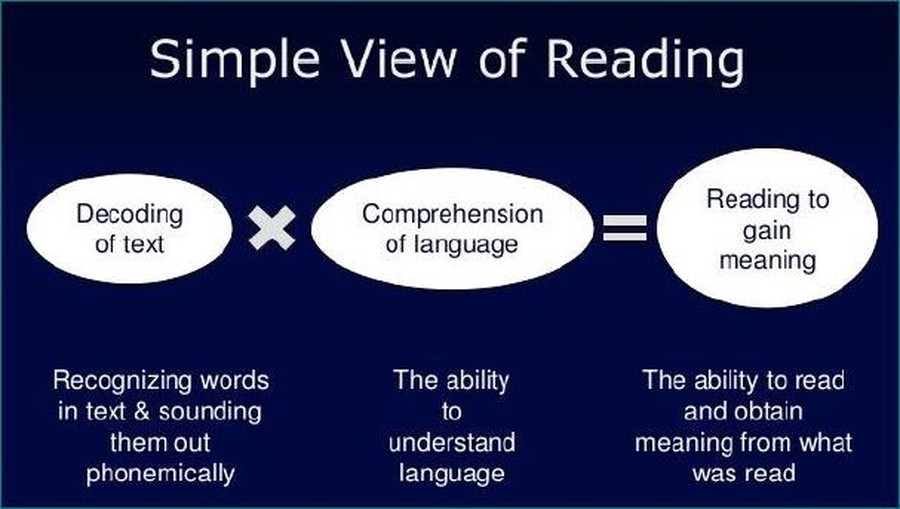 For a better understanding of how reading works within our school to develop comprehension and word recognition please click here.
We also believe that parents play a pivotal role in developing children's reading skills. We all know how important learning to read is: it's a vital skill for life. But reading can also be exciting and fun! It can open up new worlds and can lead to a life-long love of reading.
Parents can help their children to take their first steps on their very own reading adventure. Being involved in your child's reading has a really positive impact on their success. There are many simple ways you can help with your child's reading – from sharing stories to discussing every day events and activities. It's also fun and a great opportunity for parents to spend some quiet 1:1 time with their children.
We hope you find the information on the following pages useful.